Canoe & Kayak
The Wye Valley is Canoe and Kayak Country!
Forest Adventure paddle the most scenic stretches of the river, from placid water to turbulent rapids. Your instructor will brief you on kayak/canoe control, and safety procedures.
Forest Adventure provides half or full day guided trips. Barrells and lunches can be provided upon request.
You will be taught flat water skills and moving water techniques, all combined with a lot of fun and games!
Maybe train towards your progressive courses - a national award system accredited by the British Canoe Union.
Kayaks
Single seat boats, with a deck. You sit inside and use a double bladed paddle.
Canoes
North American open boat for two to three people. You kneel or sit inside and use a single bladed paddle.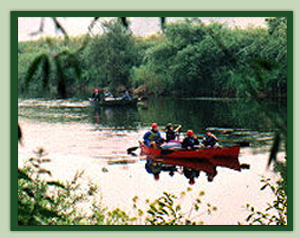 Canoe Bivouac
Sleeping out in the wild away from base camp, or centre, is a magical and memorable experience.
At dusk we load sleeping bags and bivi sheets into waterproof barrels, secured in open canoes. After launching, we paddle down the River Wye to a more remote wild bivi site, well away from roads and villages. We construct our shelter using the canoes. Then it's time to build an open fire and relax over a camp fire meal.
At dawn, after a hearty breakfast we continue our journey downstream before returning to camp.
Canoe bivouacs can run overnight or a full weekend or even longer!.